Mobile video monthly #16 – September 2021: iOS 15 is here, App Annie charged with securities fraud and Facebook is walking on eggs
App News
October 12, 2022
Get top insights
Subscribe to our blog newsletter
SUBSCRIBE
Apple finally launched iOS 15 on the 20th just after announcing the new iPhone, Pinterest is the last one in a long line of social media trying to implement a TikTok-like feature, Facebook landed in hot water and we may have the launch date for Android 12!
September was a busy month in the app world but don't worry, we've got you covered! Check out all the latest news just below!
Apple's September event
Every year, Apple holds a big event in September. In the 2021 version of the event, titled California Streaming, Apple introduced the iPhone 13, the new iPad and iPad mini, and Apple Watch Series 7. Not much happened on the developers' front during that event, except the announcement of iOS 15 being launched a week later on September 20th.
According to rumors, Apple should host another event in October to talk about its Mac line of products.
App Annie charged with securities fraud
App Annie and its co-founder and former CEO and Chairman Bertrand Schmitt have agreed to pay over $10 million to settle fraud charges. These charges were brought on by the US Securities and Exchange Commission (SEC) on the ground of "deceptive practices and making material misrepresentations about how App Annie's alternative data was derived".
The mobile app performance data company was accused of using "non-aggregated and non-anonymized data to alter its model-generated estimates in order to make them more valuable to sell to trading firms" from late 2014 through mid-2018. The director of the SEC's enforcement Division, Gurbir S. Grewal, stated that App Annie and Schmitt lied to companies about the use of their confidential data and encouraged their trading firm customers to trade on manipulated estimates.
In a press release, App Annie announced having made some changes to implement a new level of trust and transparency including the appointment of a new CEO and Executive team and the codification of procedures to "ensure the exclusion of all confidential public company data from the process of generating market data estimates".
iOS 15 finally asks users if they want to enable Apple personalized ads after it was previously on by default
For the first few months of Apple's ATT implementation (with iOS 14.5), Apple's native apps haven't had to ask for permission for targeted ads. Users could still opt out of personalized advertising but to do so they needed to go into their parameters. That's over now, with the arrival of iOS 15, Apple now showcases an ATT prompt when you open the App Store.
However, Apple's pop-up message is vastly different compared to the one developers have to show on their app. In there, it mentions that you can turn on or off personalized ads, not that you're allowing tracking (like the unmodifiable part of the ATT prompt for everyone other than Apple).
Is it fair that Apple is enforcing alarming vocabulary on developers' ATT prompt while avoiding it for its own apps?
On a separate note, with iOS 15 it's now possible to rate and review Apple's built-in apps. Is it a preventive measure to avoid being accused of anti-competitive behavior?
Consumers see Spotify ads as the most trustworthy ones
Social media is an essential tool for digital marketing. Each platform is regularly figuring out new ways to advertise to its consumers. According to a new survey led by Kantar, Spotify ads are considered the most trustworthy ones by consumers.
Even though consumers say they are more receptive to TikTok ads, Spotify leads the podium on trustworthiness, just before Google and Amazon. However, TikTok is considered the most innovative platform by consumers, followed by Instagram and Spotify.
We already knew that TikTok was the place to be for promotion nowadays, but apparently, Spotify is hitting the mark with consumers!
Pinterest is trying a TikTok-like feature
Pinterest is the last social media to join the TikTok craze. They're currently testing a new feature similar to the video-sharing app on its platform. With TikTok's growing popularity, every major player is trying to replicate the Chinese app's success thanks to full-screen video sharing.
There's not a lot of information yet on Pinterest's new feature, only that they're trying out 2 elements: a browse and a watch display for their new full-screen feed. It's not a big stretch for a platform that was already focused on sharing and discovering visuals. Can this be Pinterest's big break in video?
A potential release date for Android 12
According to an internal document shared by XDA Developers, Android 12 may be released on the 4th of October. There's still no official announcement from Google, but in the documents, it is said that Google lists October 4th as the AOSP (Android Open Source Project) of Android 12. AOSP release dates are usually synonymous with a stable launch for customers.
Android 12 (and its new Material You features) has been in public beta since May.
Facebook tests new ad automation to maximize campaign performance
Facebook is implementing automation in various elements of their campaigns. They stated that marketers could now "create one ad strategy to reach new, engaged and repeat customers. Your ad strategy will move customers through your pipeline automatically"
The system will analyze and react to the response it receives over time and optimize ad spend automatically. It means you can decide to rely entirely on Facebook's automated targeting, trusting them to find out who's the best audience for you.
This announcement comes a few weeks after Facebook admitted via email an error in the tracking of SKAdNetwork conversions for iPhone 12 users. For months, this issue affected the measurement of ad conversions for 3 campaign types: app event optimization, value optimization, and mobile app installs resulting in an undercounting of 10% of all SKAdNetwork conversions. Facebook also shared that the impact of Apple's ATT on its ad-targeting business grew in the third quarter, leading the company stock to drop.
If you launched a Facebook ad campaign fitting one of the three impacted types, this means that you were given incorrect results. Your conversions for iPhone 12 users were actually 10% higher than the result you had access to.
Everything new happening with TikTok
After landing in hot water with Ireland's Data Protection Commission over the lack of transparency on their treatment of data, TikTok has announced they are organizing a Transparency Forum on the 5th of October to address those concerns.
Meanwhile, they rolled out a 'quick promote' ad option to all business accounts on their platform. With this new feature, you will be able to turn an organic TikTok video into an ad, directly within the app. You'll need to choose one objective amongst the 3 proposed: more video views, more website visits, or more followers. TikTok can either automatically handle the targeting or you can customize it by defining your chosen specifics (gender, age, interest).
Be careful, if you use copyright-protected music on the TikTok video you want to promote, this option won't work.
Simultaneously, TikTok released a new research report, made with MediaScience, a neuromarketing research firm. Their findings show that ads on TikTok are more memorable than on other platforms (even though they're skippable). In addition to a high brand recall, the ads were also perceived as more likable than on other platforms.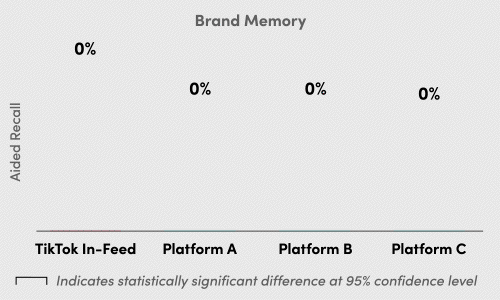 If you haven't done it yet, you should consider adding TikTok to your app marketing strategy! If you don't know where to start check out our article on the subject or even their new ad holiday guide.
Not to mention that this month, TikTok also celebrated reaching 1 billion monthly active users! What a feat!
Twitter is testing a new timeline
After getting rid of Fleets, Twitter is trying to reuse some of the tool's characteristics. Notably, the full-screen media sharing. They're now beta-testing a new edge-to-edge timeline that makes media shared under tweets take the whole screen space.
This will drive focus to media (whether it be videos or photos) on the platform, which was already a central point of Twitter, seen as 97% of people focus on visuals when they scroll on the social media platform.
Playco is launching a game directly playable on TikTok
Playco, which specializes in instantly playable games for social platforms, announced they were launching the first game directly playable on TikTok. The Chinese App is already a powerhouse for mobile games advertising. Sway Stories will be a first for the still-growing social network that reached 1 billion monthly users earlier in September.
Users won't need to leave the app to play this game. Following the style of Choose-Your-Own-Adventure genre, players make choices that determine how the character's (a young creator) story will play out.
Google is bringing Android 11's auto-reset of unused app permissions to older phones
With its release, Android 11 brought a new privacy feature that automatically limits access to sensitive personal data (location, camera, microphone, etc.) for unused apps. Remember that app you downloaded months ago only to use it once and never open it again? This is the kind of apps that will be automatically categorized as unused by Android. The automatic removal of permissions by Android happens after 3 months without using an app.
Google will bring this feature to devices running Android 6.0 Marshmallow to Android 10 in the coming months. Developers can ask users to "prevent the system from resetting their app's permissions" for special situations such as providing family safety, syncing data, communicating with smart devices or pairing to companion devices.
Netflix continues its push in mobile gaming
After the launch of two Stranger Things games for Android users in Poland last month, Netflix rolled out mobile games for their Android subscribers in both Spain and Italy! Who will be next?
The streaming company also announced the buying of Night School Studio, an indie game developer, that will join the ranks of their mobile department. They specify that every game will be free of charge for their subscribers and won't include in-app purchases.
The Facebook Files
Earlier this month, the Wall Street Journal published a series of articles concerning Facebook dubbed "The Facebook Files". It caused a stir in the tech community, forcing Zuckerberg's firm to respond to the WSJ's accusations.
In these articles, the WSJ covers several subjects like the separate rules for high-profile users, the way Facebook's algorithm fueled angry and harmful behavior on the platform, and even the company's weak response to human traffickers using the social media app to attract victims.
The article that made the headlines detailed how Facebook led studies showed that Instagram was toxic for teen girls but the company buried the results and their troubling implications. Instead, they decided to publicly downplay the harmful effects of Instagram. Facebook is now set to testify in front of the American Congress on the subject.
In response to these accusations, Facebook released part of the slides from their research, arguing that there were also positive sides of teens using Instagram.
Following these news, Instagram officially announced putting their Instagram Kid project on hold until further notice.
UK's Advertising Standards Authority (ASA) issued new rules over the advertising of in-game purchases
The updated guidance revealed by the ASA aims to stop ads that may pressure or mislead players on the existence, purpose, and total cost of in-app purchases. They want games to showcase the real-world dollar value of in-game currency. This means it should also display how much of the in-game currency the player needs (in addition to what he already possesses in the game).
In addition to that, labels such as "Best Value!" implying a tight timescale should be avoided. However, the ASA recognizes the difference between games offering ways to earn in-game items for free and those who do not and will treat them differently.
The ASA cannot enforce legislation or fine companies that break its guidance, though they can refer serious offenders to regulators with stronger powers in the UK.
Facebook Reels are live in the US
Last month, Facebook teased that it was testing a Facebook version of Instagram's Reels (already a knock-off TikTok-style videos). On September 29th, they officially launched Facebook Reels in the US. This new feature seems to work exactly like Instagram's Reels and you can share this new kind of videos on your News Feed or in Group.
The official blog post states that, just like Instagram Reels, Facebook is looking into testing full-screen and immersive ads between Facebook Reels.
As of now, this feature is only available in the US and there has been no news on a potential global launch.
What we talked about this month:
See you next month for our next iteration of Mobile video monthly! Did you spot another big news in September? Let us know in the comments!
Latest posts by Marine Nozerand
(see all)